PRODUCT SHOW Professional air filter manufacturers
Extended Frame Mini-pleats HEPA air filters
Category:Mini-pleats HEPA Filter
HOT line: +86 028 83005623
Mobile : +86 13908212088 (Mr Li) +86 18980021527 (Ms Heng) +86 13882185117 (Ms Phoenix Jiang)
Skype: Phoenix Jiang Air Filter
Tel:028-61295169 Fax:028-61292511

Detailed introduction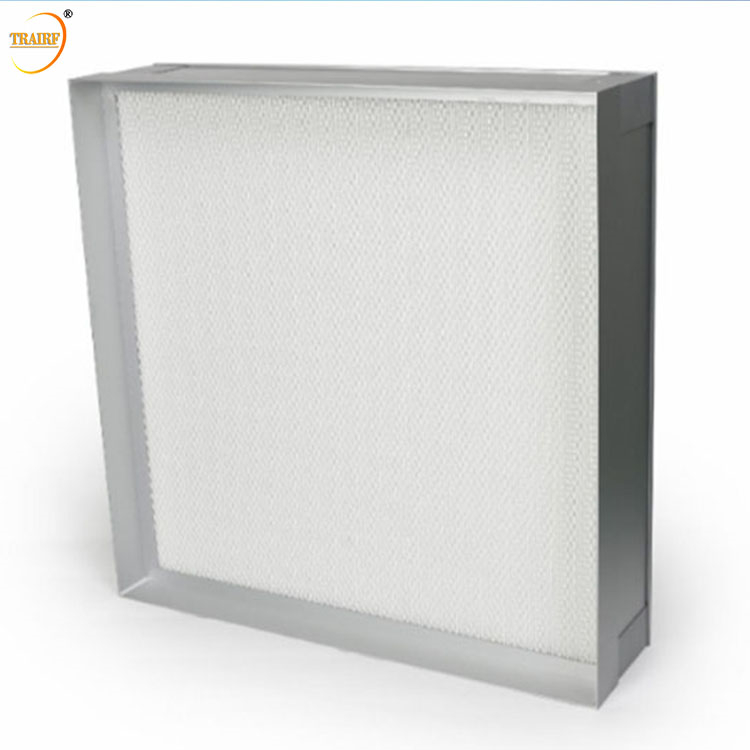 Extended Frame Mini-pleats HEPA air filters
TRAIRF® Extended Frame Mini-pleats HEPA airfilter is made of ultra-fine fiberglass, it designed into continuity fold paperfor providing larger filtration area. Mini-pleats media design also canextending filter life and decreasing filter pressure drop. Air can throughmedia smoothly with low resistant. What's more, folded media separated throughhot melt adhesive to make sure there are no chemical pollution air release toour clean space.
u Long life span
u Light weight
u Low Resistant
u High Efficiency
u Easy handling of rejection and environment friendly.
Efficiency:
TRAIRF® high efficiency particulate HEPAFilter testing according to EN-1822 standard, guarantee efficiency from 95.99%,97.99%, 99.999% (EU12-EU14) or H10-H14 (per EN-1822 standard in MPPS Test) on0.3 micrometer size particles HEPA filter.
Testing Method

Particle Size(μm)

0.3μm

0.1-0.2 μm

Efficiency(%)

95%

99.999% above

99.97%

99.99%

100.00%

According to EN-1822 standard in MPPS Test
Frame:
Metal Frame (Galvanized Steel and Aluminumin box type or header type) are available. TRAIRF® high efficiency particulateAir Filter provide the maximum effective media area.
Here TRAIRF® HEPA Filter Construction:
Filter Construction

Filter Type

Panel Type

Single Header Type

Filter Media

Micro Glass Fiber

Filter Frame

Aluminium alloy / Galvanized / Stainless Steel / Wooden frame are Available

Separator

hot melt

Support Grid

-----

Sealant

PU Base
Parameter
Model


Outside dimensions
(mm)


Rated air flow
(m3/h)


Initial resistance
(Pa)


Efficiency
(%)

Dust capacity
(g)

TR-GX-1

610×610×50

700

≤220或≤110(HV)

≥99.99

450

TR-GX-2

915×610×50

1000

≤220或≤110(HV)

≥99.99

680

TR-GX-3

1220×610×50

1400

≤220或≤110(HV)

≥99.99

900

TR-GX-4

610×610×69

1000

≤220或≤110(HV)

≥99.99

560

TR-GX-5

915×610×69

1500

≤220或≤110(HV)

≥99.99

840

TR-GX-6

1220×610×69

2000

≤220或≤110(HV)

≥99.99

1120

TR-GX-7

610×610×80

1200

≤220或≤110(HV)

≥99.99

650

TR-GX-8

610×610×90

1400

≤220或≤110(HV)

≥99.99

750

TR-GX-9

610×610×96

1600

≤220或≤110(HV)

≥99.99

850

TR-GX-10

1170×570×69

1800

≤220或≤110(HV)

≥99.99

1000

TR-GX-111

1170×570×80

2200

≤220或≤110(HV)

≥99.99

1250

TR-GX-12

1220×610×80

2500

≤220或≤110(HV)

≥99.99

1300

TR-GX-13

1220×610×90

2800

≤220或≤110(HV)

≥99.99

1500
Note:special size can be customized
ABOUT Mini-pleats HEPA Filter
HOT line

+86 028 83005623

Mobile : +86 13908212088 (Mr Li) +86 18980021527 (Ms Heng) +86 13882185117 (Ms Phoenix Jiang)
QQ : 491647394 453565853 Skype: Phoenix Jiang Air Filter
Tel: +86 028 8300 5623 Fax:028-61292511
Address: No.740 Baiyun Road, Xindu East Industrial Park, Chengdu City, Sichuan Province, China

PAY ATTENTION TO US

Chengdu Tianrui Air Purification Equipment Co.,Ltd Copyright © 2018 trkqjh.com .All Rights Reserved. Technical support:

cdqzx.com