PRODUCT SHOW Professional air filter manufacturers
White Green Cotton Medium Efficiency Pocket Filter
Category:Medium Filter
HOT line: +86 028 83005623
Mobile : +86 13908212088 (Mr Li) +86 18980021527 (Ms Heng) +86 13882185117 (Ms Phoenix Jiang)
Skype: Phoenix Jiang Air Filter
Tel:028-61295169 Fax:028-61292511

Detailed introduction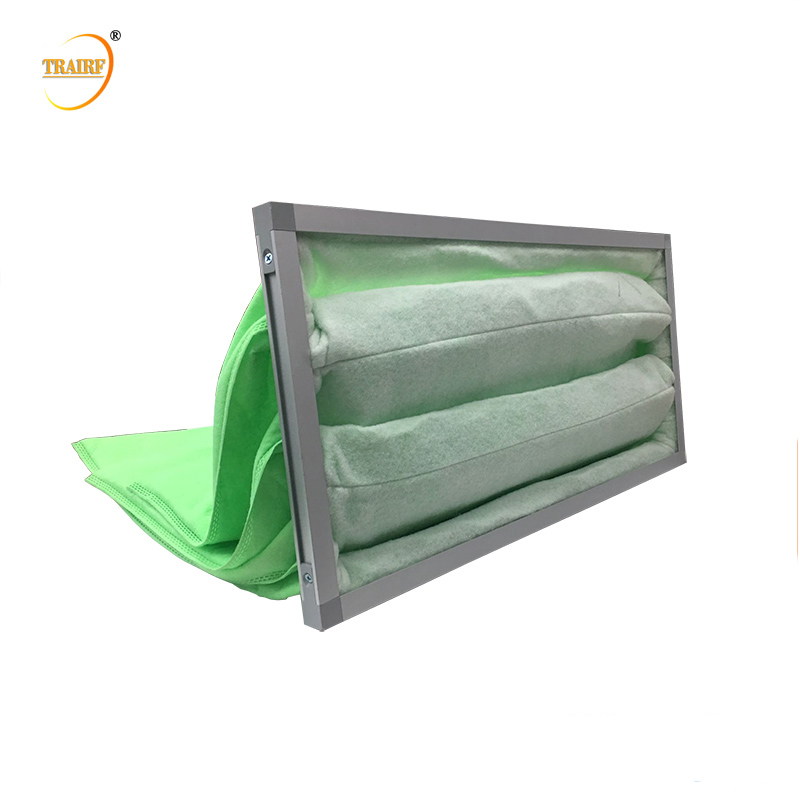 White Green Cotton Medium Efficiency Pocket Filter
Description
TRAIRF® Medium Efficiency Pocket Air Filteris an extended surface air filter designed for most medium and high efficiencyair filtration systems. This broad spectrum of styles and models makes the MainPack extremely versatile and suitable for almost any commercial or industrialair handling system. Our medium efficiency pocket filters are widely used inventilation and air conditioner system of laboratory, pharmacy,microelectronic, hospital, food industry etc which areas requesting a higherdegree of air cleanliness. The pocket filter media is composed of 4 layersSynthetic Microfiber designed to meet the various ASHRAE standards.
Efficiency:
TRAIRF® Medium Efficiency Pocket Airfilters have an average atmospheric dust spot efficiency range 45-50%, 60-65%,80-85% and 90-95% in NBS Test Method; per ASHRAE 52.2, the efficiency is MERV9,MERV11, MERV12 & MERV14.
Features:
Bag Filter is designed to a V-Shape pocketwith extended surface frame. V-Shape pocket design allows every pockets tofully inflate and maintain a proper spacing with adjacent pockets. Air canfreely through from front to back .
Filter Media:
The pocket filter media is composed of 4layers Synthetic Microfiber,one layer of spun bound on each side for strengthand stability, one coarse fiber melt-blown layer for filtration of largerparticles and one FINE Melt-blown layer for filtration of smallerparticles
Frame:
Both glass fiber and synthetic fiber filtermedia Bag Filters consists of individual pockets, which are bonded to a corrosion-resistantheader, aluminium alloy and galvanized frame header are available.
Advantages:
◆ Can make Pocket Type, Panel Type,Pleated Panel type according tocustomers' requirement
◆ Large Dust Holding Capacity
◆ Low Resistant,High Airflow
◆ Efficiency stability, Easy to Installation
◆ Widely used as medium efficiency for air conditioning system
Material:
Frame : Aluminium alloy, Galvanized andPlastic frame are available
Filter Media: Synthetic fiber, fiber-glass
Filter Media color: F5 45% White
F6 65% Green
F7 85% Pink
F8 95% Yellow
Sealing Strip: EAC
Gasket: EVA
Working Highest Temperature & Humidity:80 Degree Centigrade, 80%
Parameter
Model


Outside Dimensions
(mm)


Rated air flow
(m3/h)


Initial resistance(Pa)


Efficiency
(class)


Filter Media color


pockets

TR-ZXD-1

495×295×500mm
20″×12″×20″

1000m3/h


50Pa F5

55Pa F6

60Pa F7

65Pa F8

40-50% F5

60-70% F6

75-85% F7

85-95% F8



F5 White

F6 Green
F7 Pink
F8 Yellow

5

TR-ZXD-2

495×495×500mm
20″×20″×20″

1800m3/h

5

TR-ZXD-3

595×295×500mm
24″×12″×20″

1300m3/h

6

TR-ZXD-4

595×495×500mm
24″×20″×20″

2200m3/h

6

TR-ZXD-5

595×595×500mm
24″×24″×20″

2600m3/h

8

TR-ZXD-6

495×295×600mm
20″×12″×24″

1200m3/h

5

TR-ZXD-7

495×495×600mm
20″×20″×24″

2200m3/h

5

TR-ZXD-8

595×295×600mm
24″×12″×24″

1600m3/h

6

TR-ZXD-9

595×495×600mm
24″×20″×24″

2700m3/h

6

TR-ZXD-10

595×595×600mm
24″×24″×24″

3200m3/h

8
ABOUT Medium Filter
HOT line

+86 028 83005623

Mobile : +86 13908212088 (Mr Li) +86 18980021527 (Ms Heng) +86 13882185117 (Ms Phoenix Jiang)
QQ : 491647394 453565853 Skype: Phoenix Jiang Air Filter
Tel: +86 028 8300 5623 Fax:028-61292511
Address: No.740 Baiyun Road, Xindu East Industrial Park, Chengdu City, Sichuan Province, China

PAY ATTENTION TO US

Chengdu Tianrui Air Purification Equipment Co.,Ltd Copyright © 2018 trkqjh.com .All Rights Reserved. Technical support:

cdqzx.com