PRODUCT SHOW Professional air filter manufacturers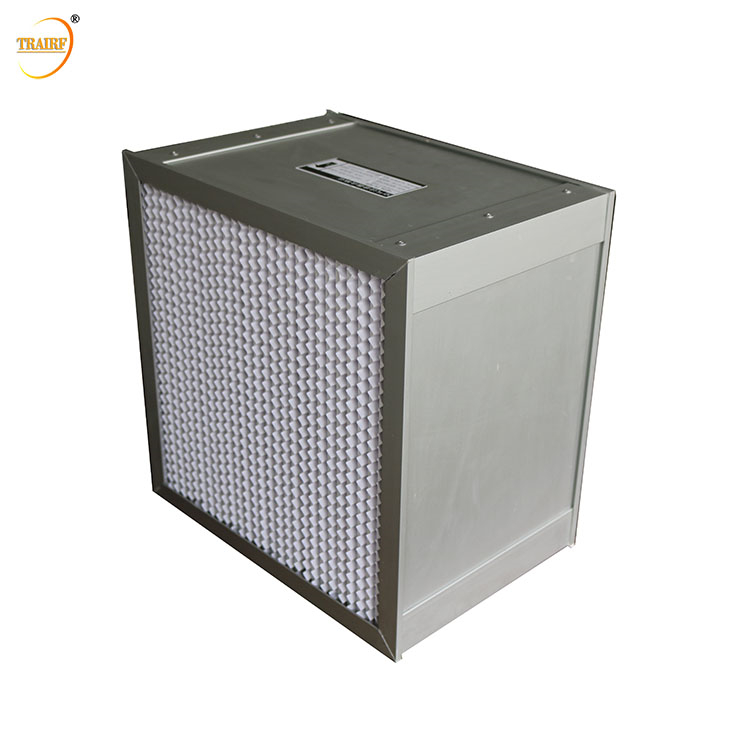 Aluminium Frame Paper Separator High Efficiency Rigid Cell AirFilter
Category:Rigid Cell High Efficiency Filter
HOT line: +86 028 83005623
Mobile : +86 13908212088 (Mr Li) +86 18980021527 (Ms Heng) +86 13882185117 (Ms Phoenix Jiang)
Skype: Phoenix Jiang Air Filter
Tel:028-61295169 Fax:028-61292511

Detailed introduction
Aluminium Frame Paper Separator High Efficiency Rigid Cell AirFilter
TRAIRF® Aluminium Frame Paper SeparatorHigh Efficiency Rigid Cell Air Filters are designed for high and mediumefficiency air filtration in all types of commercial,industrial andinstitutional HVAC installations.
High efficiency extended surface airfilters media is made from ultra fine fiber micro-glass paper. The media pack,consisting of pleated micro-glass paper media and corrugated aluminum or paperseparators, is sealed inside the cell sides forming a totally rigid filterassembly. Different efficiency media has its own formulation for fiber size anddensity.Paper mat media is unaffected by humidity or intermittent exposure towater. Water does not pass through media, but causes a temporary rise inresistance, which quickly falls back to normal levels as the moistureevaporates.
◆ Water resistant micro glass paper media
◆ Three styles of construction - Box Construction with no header , Boxconstruction with single header and Box construction with double header
◆ Three type frame: Wooden, Galvanized and Aluminium Alloy framematerials
◆ Three efficiencies: MERV 14(90-95%), MERV(80-85%), MERV 11(60-65%)
◆ Three Depths-150mm , 220mm and 292mm
◆ Compact design saves valuable in-line duct space
◆ Ideal for variable volume systems and difficult operating conditions
Efficiency:
TRAIRF® filters are designed for high andmedium efficiency air filtration .Three efficiencies: MERV 14(90-95%), MERV13(80-85%), MERV 11(60-65%)
Frame:
Wooden, Galvanized and Aluminium Alloyframe materials are available for TRAIRF® high efficiency rigid cell airfilters.
Features:
u High-efficiency, Low Resistant, Equal velocity
u Suitable as terminal filtration for clean-room or partial purification
Material:
Frame: Aluminium Alloy or Galvanized Frame
Filter Media: ultra fine fiber micro-glasspaper
Sealing Strip: Polyurethane Adhesive
Separator: Hot-melt adhesive
Working temperature & Humidity: 80℃、80%
Parameter
Model


Outside dimensions
(mm)


Rated air flow
(m3/h)


Initial resistance
(Pa)


Efficiency
(%)


Dust capacity
(g)

TR-CX-Y1

305×305×150

250

≤200

≥99.99

200

TR-CX-Y2

320×320×220

400

≤200

≥99.99

350

TR-CX-Y3

484×484×150

600

≤200

≥99.99

400

TR-CX-Y4

484×484×220

1000

≤200

≥99.99

600

TR-CX-Y5

726×484×220

1500

≤200

≥99.99

900

TR-CX-Y6

968×484×220

2000

≤200

≥99.99

1200

TR-CX-Y7

610×610×150

1000

≤200

≥99.99

600

TR-CX-Y8

915×610×150

1500

≤200

≥99.99

900

TR-CX-Y9

1220×610×150

2000

≤200

≥99.99

1200

TR-CX-Y10

630×630×220

1600

≤200

≥99.99

900

TR-CX-Y11

945×630×220

2400

≤200

≥99.99

1400

TR-CX-Y12

1260×630×220

3200

≤200

≥99.99

1800

TR-CX-Y13

610×610×292

2200

≤200

≥99.99

1200

TR-CX-Y14

915×610×292

3300

≤200

≥99.99

1800

TR-CX-Y15

1220×610×292

4400

≤200

≥99.99

2400
Note: Special size can be customized
ABOUT Rigid Cell High Efficiency Filter
HOT line

+86 028 83005623

Mobile : +86 13908212088 (Mr Li) +86 18980021527 (Ms Heng) +86 13882185117 (Ms Phoenix Jiang)
QQ : 491647394 453565853 Skype: Phoenix Jiang Air Filter
Tel: +86 028 8300 5623 Fax:028-61292511
Address: No.740 Baiyun Road, Xindu East Industrial Park, Chengdu City, Sichuan Province, China

PAY ATTENTION TO US

Chengdu Tianrui Air Purification Equipment Co.,Ltd Copyright © 2018 trkqjh.com .All Rights Reserved. Technical support:

cdqzx.com